Welcome to Guitar Repairs & Spares by Andy Farrell
Just 5 minutes from M1, Junction 26
Andy Farrell is an independent, full time, guitar technician, pro set -up specialist and custom guitar builder, offering one of the most comprehensive guitar repair and maintenance services available in the UK having worked successfully with private individuals and many top UK retailers for over 40 years.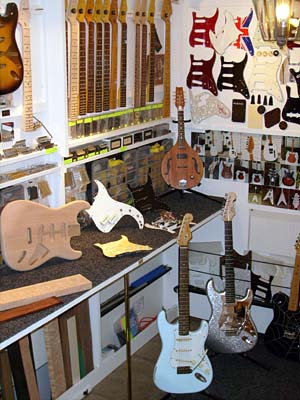 Click on the above for a larger image
Catering for individual guitarists needs from a players perspective whilst operating an attractive trade level direct to the public. Pricing policy "Why pay more?"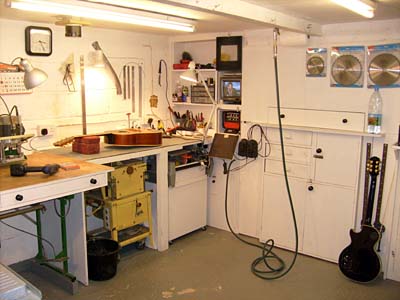 Click on the above for a larger image
Not to be confused with those often expensive high street services offered by inexperienced in-house amateurs claiming to be luthiers, no more searching for the real deal!
BUSINESS TERMS & CONDITIONS
Opening hours
Are variable. Please telephone to arrange an appointment, as I no longer use email.
As I am often using noisy machines I often miss calls, please leave a message and I will contact you as soon as poss.
As a specialist guitar repair and maintenance service I do not stock or retail musical equipment therefore I am not a shop. All work is carried out exclusively by myself I do not involve third parties or out workers. I also have no affiliations with the retail trade only private individuals. Due to the success of my all inclusive pro set-up service and the demands this places on my time I have suspended my paint spraying service (broken headstocks being the exception) along with pick-guard copying to allow me more time to keep a swift turnaround flow in this busy area. I would also like to reassure customers that instruments left in my care are stored in a secure clean temperature controlled environment and are not removed from my premises to other locations during the repair/service process.
Overdue collections
All instruments remaining uncollected 2 months after notification of completion will be placed in storage at a cost to the customer of £1 per week thereafter until final collection, If you are unable to collect your instrument after notification of completion please let me know.
Parking
Yes.
Toilet facilities
None.
Payment
Cash on completion/collection.
Bus service
Rainbow 1 leaves Nottingham Victoria bus station every 10 minutes, about 25 minutes to Kimberley.
Directions to my workshop are available at GOOGLE guitar repairs Nottingham.