Re-Frets
| | |
| --- | --- |
| Standard Rosewood/ebony boards inc reassembly & setup | £150.00 |
| One piece maple neck inc full refinish in satin cele reassembly & setup | £200.00 |
| Bound edge stepped edge style inc reassembly & setup | £180.00 |
| Single fret replacement | £5.00 each |
Top nuts often need replacing after refretting I tend to use beef shinbone individually shaped fitted and polished to suit.
| | |
| --- | --- |
| 6 string nut | £25.00 |
| 7/8 string nut | £30.00 |
| 12 string nut | £40.00 |
Excessive fret wear cannot usually be rectified by a fret skim (part one of Pro Set-Up) Therefore removal of some or all of the guitars damaged frets is necessary in order to replace them with new fret wire. Choose from a wide range of quality fret wires to suit your requirement.
Please note - Fret levelling applies to both re-frets and set -up's. After checking that all frets are firmly set into the fretboard a process of levelling begins. I would like to make it clear that I do not use vicious iron files of varying length more commonly found in blacksmiths shops to skim or first face the wire, coupled with a degree of unrequired enthusiasm this technique usually finds the highest frets first creating a fulcrum style see saw effect damaging other frets and over reducing fret profile. I only use (in conjunction with specialist internal radius profiling files) full fretboard length humidity compensated ebony grade flat blocks faced with at least four reductions in carborundum grit coupled with a final machine polishing process to achieve a mirror finish to the fret face resulting in maximum note registration and sustain. I also recommend regular string changes after this process as corroded strings contribute to premature fret wear.
We will re-fret any fretted instrument from mandolins to bound edge "heavies"
Also available are compound radius fret boards conversions allowing choke free "dusty end" string bending, fretless bass conversions and flat board slide guitar conversions.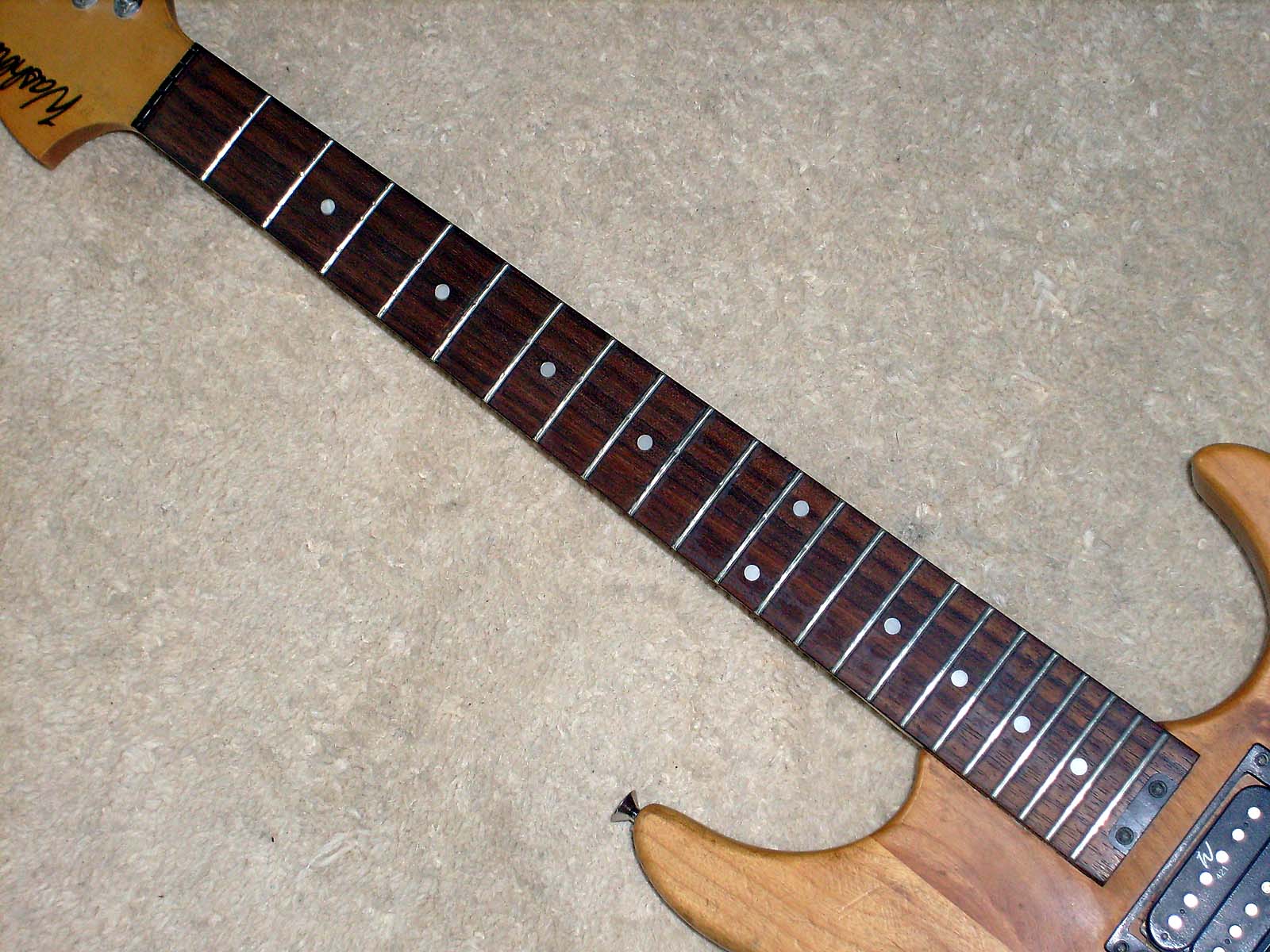 Click on the above for a larger image
Above is a typical example of a guitar with badly worn frets. The ideal solution is a total re-fret, however in this case the customer chose a cost effective fret dress, profile and polish. Giving the neck a low action 'close to the board feel'.
Full Refret on Epiphone semi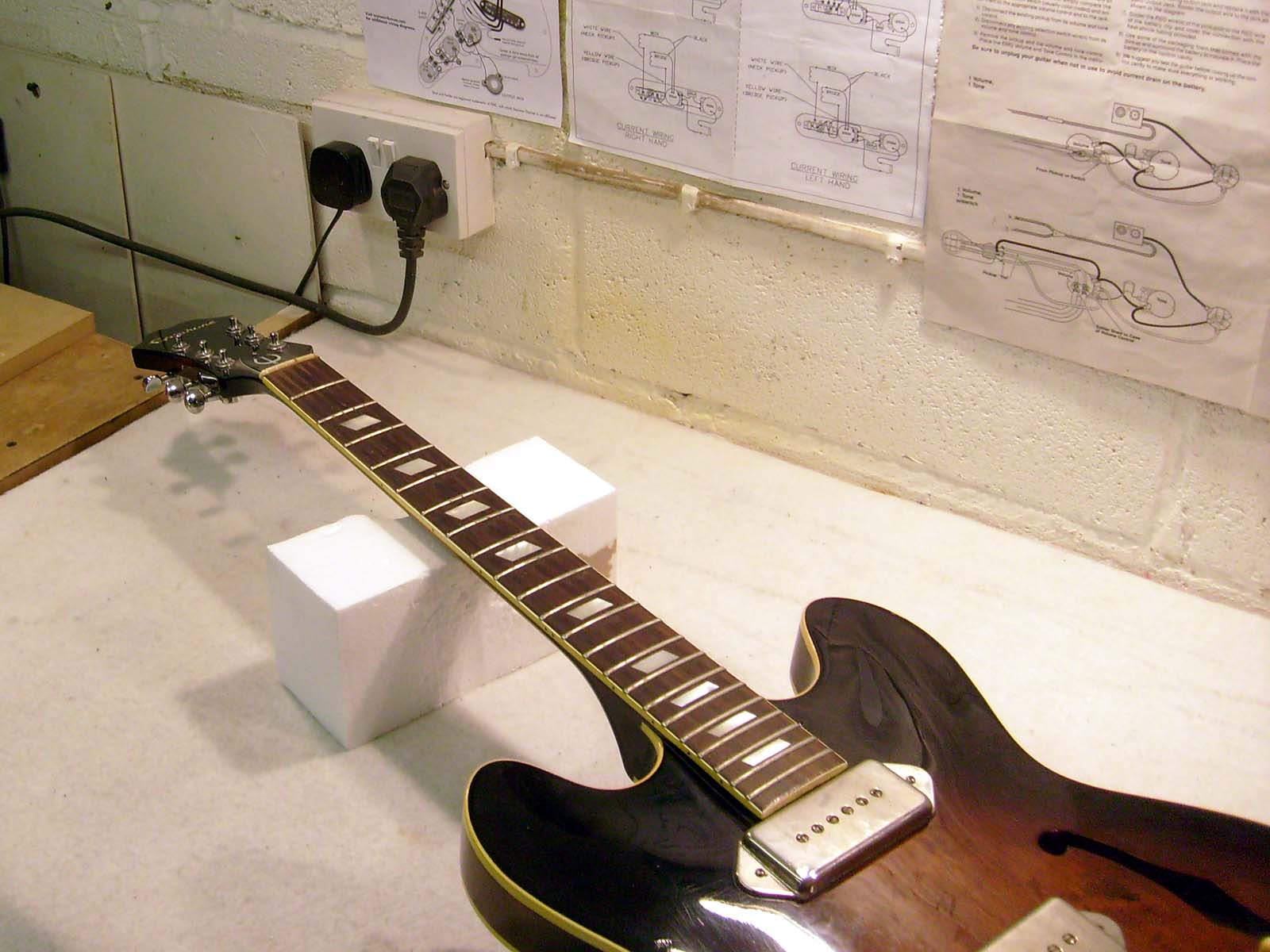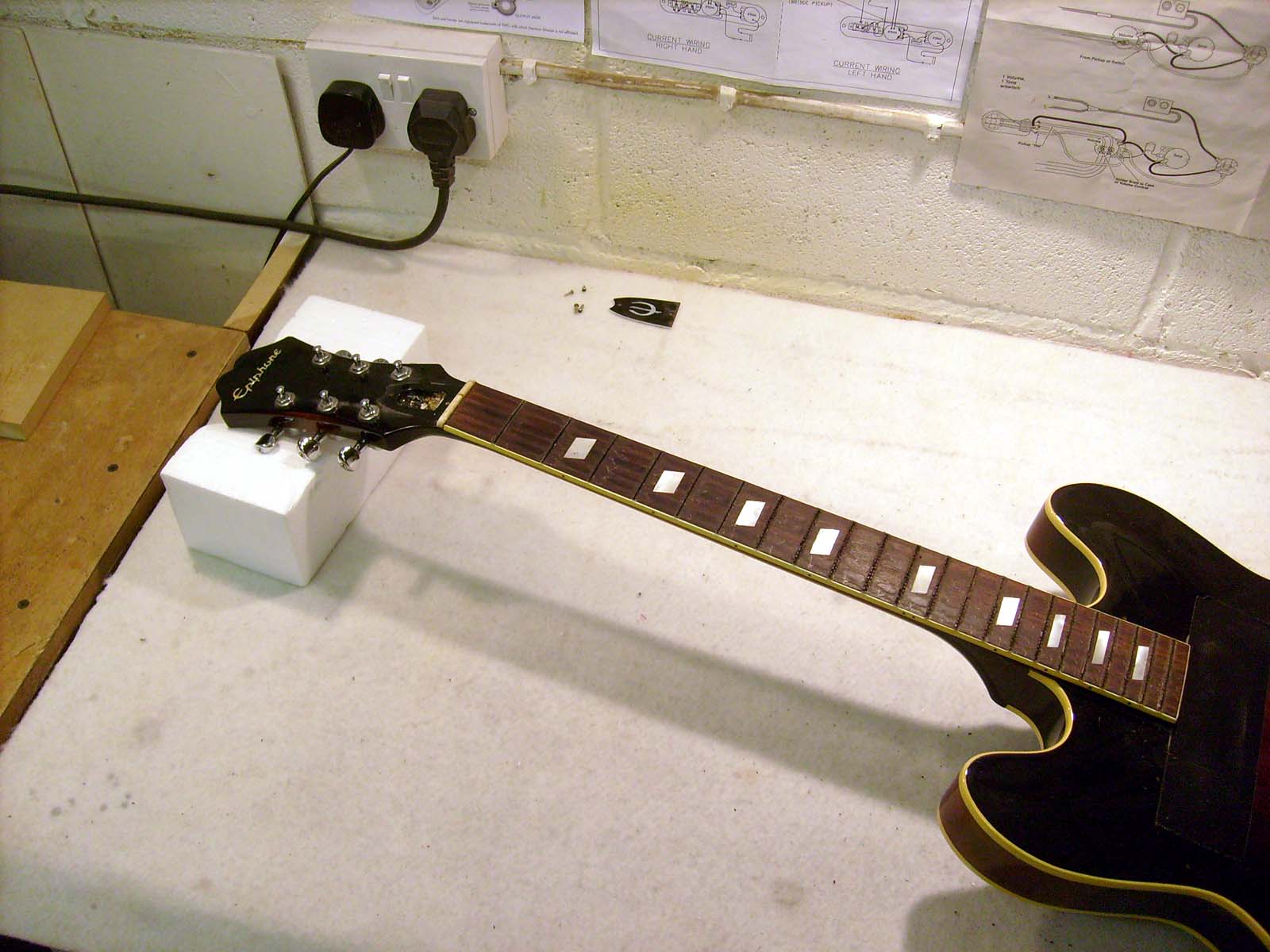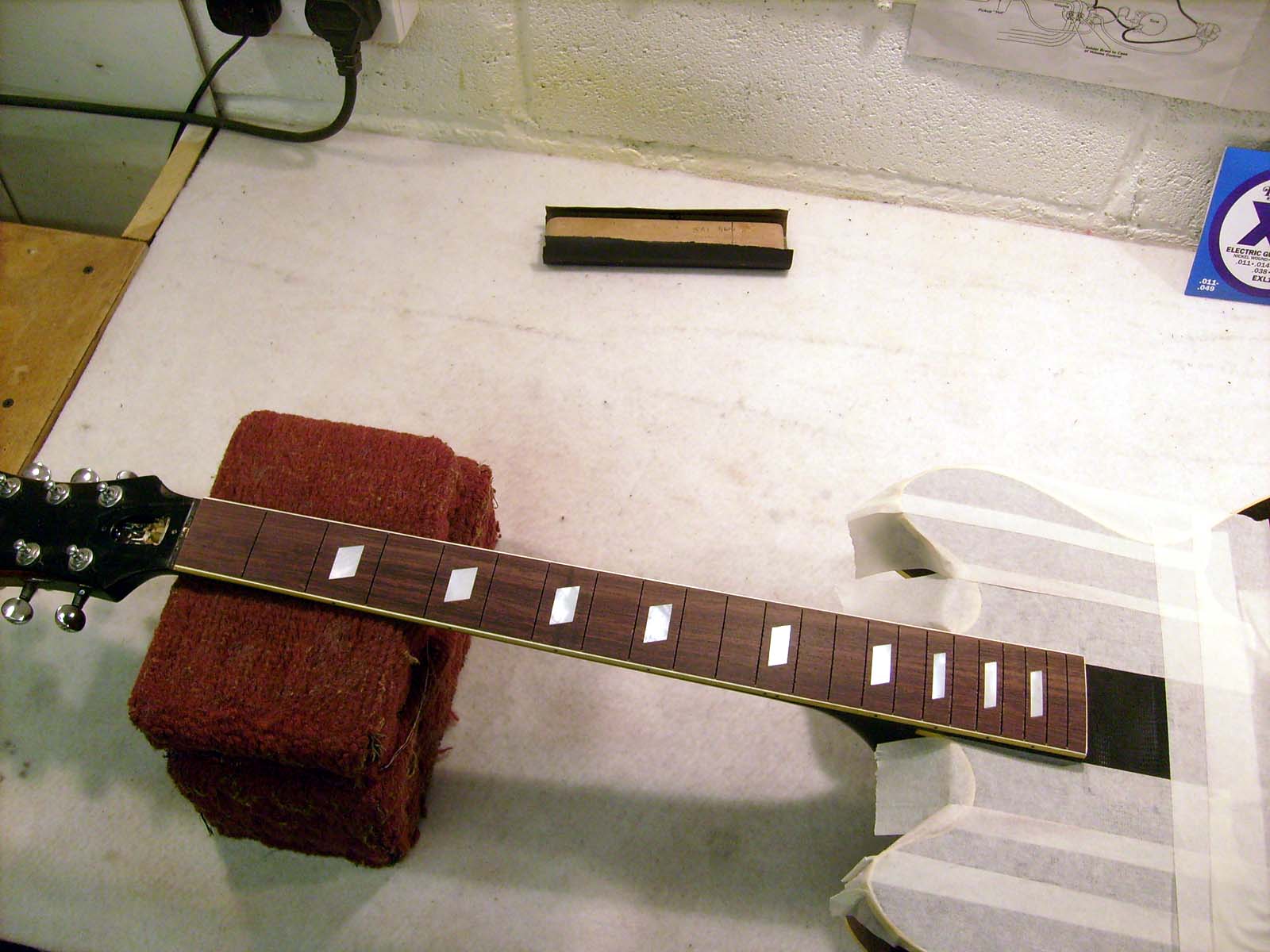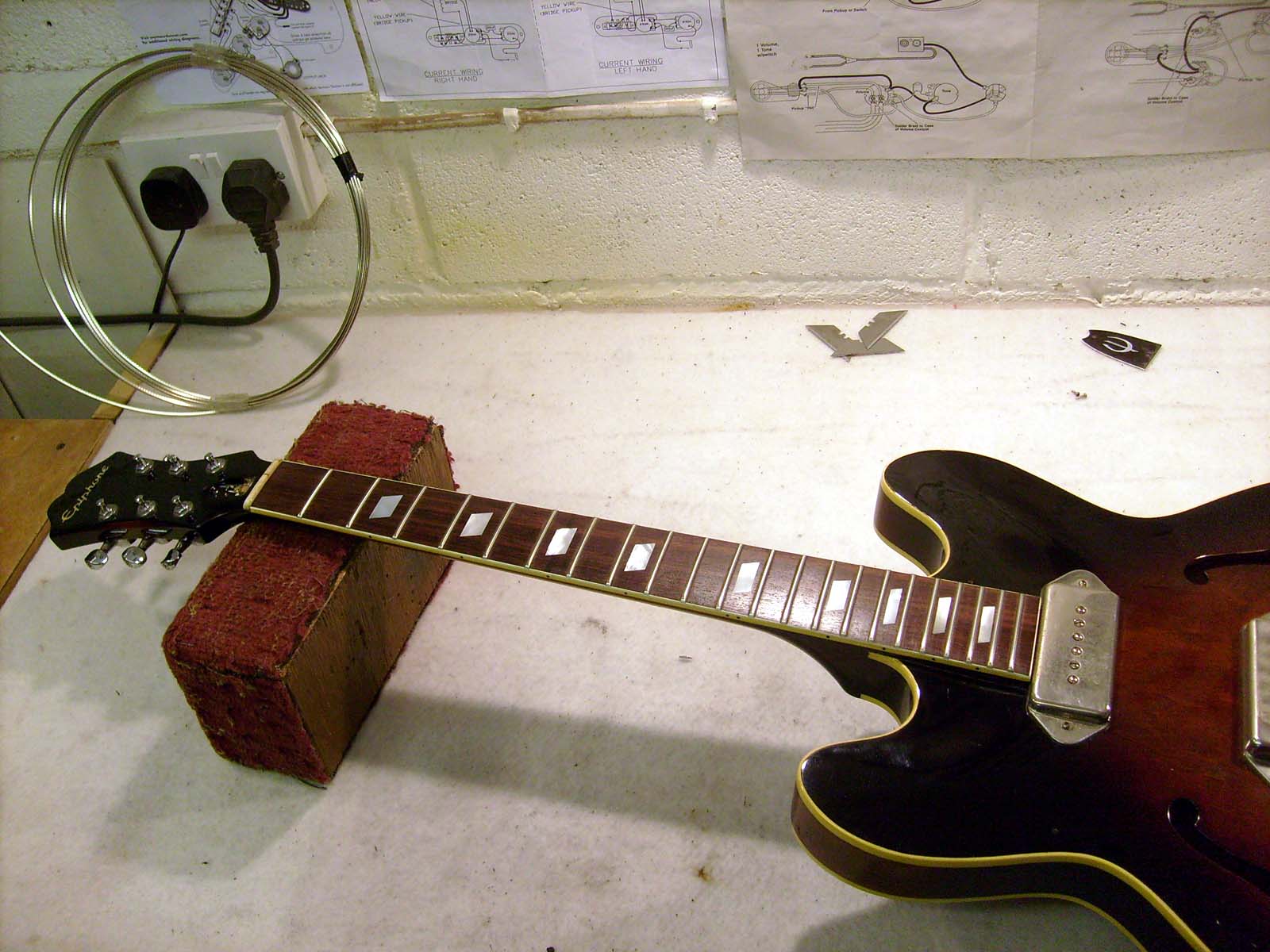 Click on the above for a larger image